Abu Dhabi is a new location in the World Triathlon Series and it really was like going into the unknown. If I'm honest, until about 4 weeks ago I had doubts about going. After my 2014 season finishing less successfully than I'd hoped I wanted to start the year off well and Abu Dhabi initially didn't seem like a race that was going to suit me.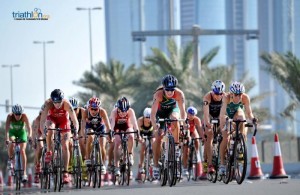 I was very fortunate to have access to the heat lab at the New South Wales Institute of Sport under the guidance of Katie Slattery, Steve Crowcroft and Jamie Turner and for 3 weeks leading up to the race I was doing quite specific sessions in the lab to prepare. By the 6th session in the heat I was actually starting to get excited. I was feeling faster and more comfortable than I had for a long time.
I had a decent swim – I exited the water within the top 20. I made a pretty critical mistake out of T1 and dropped off a girl who ended up in the front group. First lesson of the year learnt.
We had a big group on the ride chasing down the leaders but it was difficult to get everyone working. There were probably only 5 or 6 of us rolling turns and as usual, when you have athletes that want to just take a free ride, it never ends well. So our group got off the bike close to a minute down on the front pack.
I had no idea how many were up ahead when I started the run. I also had no idea how well I was going to run against many of the fastest girls from the past few years. Throughout 2014 I was getting off the bike and feeling like I hadn't ran for months and it was difficult to believe Saturday's race was not going to feel the same way. I told myself to enjoy it no matter what and not be afraid to fail. I went out of transition with the intention to stick to my plan: start at a realistic pace and have belief in my ability to hold that pace in the second half – I was prepared to let everyone go up the road and risk not running them back – Within 1km, with the exception of my training buddy & eventual winner Gwen Jorgensen (who took off at a completely different speed), I was running with some of the fastest runners in the sport….and it felt good! I can't remember the last time I felt like that. Within 2.5km we were catching girls from the front group and I couldn't believe that suddenly I was pushing for a top 10.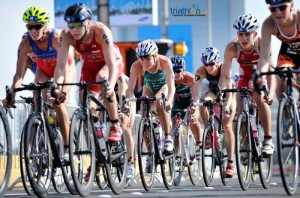 I ran out of road with a few I'd yet to catch and I crossed the line in 7th. My best ever WTS result!!
I am so grateful of the support network I have around me. My sponsors, Triathlon Australia, my family, my partner Brendan & of course my coach Jamie Turner who made me believe in my ability and to restart. The past few months have been a constant battle with myself but I'm happy to say it was totally worth it.
I really feel like I still have a lot I can improve on and I'm excited to start the year off better than I could have ever imagined at the end of 2014. My next race will be the second round of the WTS in Auckland. I can't wait
Thanks for the support
Charlotte