Unlike Abu Dhabi 3 weeks ago, I had a fair idea on both my fitness levels and the tough Auckland course. This was my 4th time racing in Auckland, and it would be the toughest and most demanding course I've ever done. We'd had perfect preparation for it and I knew I was in good form.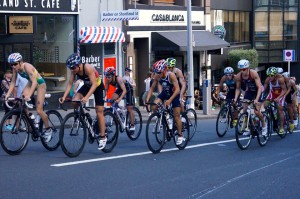 It was a 2 lap 1500m non wetsuit swim. I didn't get a great start and although I didn't realize it at the time, my first lap was pretty terrible! I picked up a few places in the second lap but still exited the water over a minute down on the leaders. I knew I had my work cut out to close the gap on the bike, but I had some strong cyclists around me so I thought we might have a chance if we all worked well together.
The ride was what I was most excited about in this race. The 8 lap (40km) technical, hilly course suits my strengths. Myself and a couple of other girls worked hard the whole ride but there wasn't enough of us working together and we kept losing time. It's hard not to get demoralized in that situation and I guess, in the past, I have done just that. I kept working to ensure I could keep the gap as low as possible and maybe there would be a chance I could run some girls down from the previous pack. At that point, I thought I'd be lucky to get in the top 25.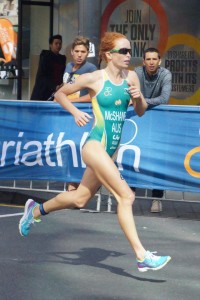 After a ride like that, you never know how your body is going to feel when you get off the bike. I had some super quick
runners in my group (including training partner Barbara Riveros) so I knew that although we might be a long way off the lead, it would still be a fast run.
I headed out of transition first in my group and was quickly followed by Barbara. To my surprise, I actually felt pretty good. I had planned to start off conservatively and build into it but I just wanted to start catching people already!!
After the first lap (of 4 x 2.5km) we had already caught a group of girls that had started a minute ahead of us. I thought I had maybe started out too quick but I figured there wasn't much I could do about that now. I just tried to hang with Barbara as long as I could and we ended up catching a decent amount. It wasn't until after I'd crossed the line that I found out I'd ran up into 13th place!
I had wanted to do a lot better than that in Auckland – and I knew I was in shape to produce a really good result, but after such a bad start to the race I couldn't be happier with how I ended up. 13th on a bad day, really isn't that badJI ended up having one of the quickest run splits, which is definitely a confidence booster for the rest of the season.
I kept my ranking as 7th in the World Triathlon Series heading into the next round in Gold Coast in just over a week. I'm looking forward to racing in Australia for the first time this year!
Thanks for the support