As the first ever ITU WTS race in African soil, heading to Cape Town was like heading into the unknown. The course, the city and the weather was for the most part hearsay so I didn't really know what to expect.
We started off the long trip over last Tuesday. With so much travel and the time difference, I was a little worried about how I would feel going in to the race. As it turned out I had little trouble and felt minor negative effects in the lead up.
The little information I had heard turned out to be true. Cape Town was beautiful, the course was flat & the water was very cold. So cold that for safety reasons the organisers had to cut the swim short by half making it a single lap 750m course.
As always, the swim was on from the get go. I didn't really have a clue where I was in relation to everyone else until I exited the water. I was well within the front half of the field, and I quickly worked out I was in the company of some strong riders.  Our group were around 20 seconds down at the start and I am disappointed/frustrated/angry to say it ended up at over 2 minutes down by the end. The front group of girls worked extremely well together, and it paid off in a big way. Although we had some incredibly strong riders in our group, sometimes that isn't always enough and literally every single person needed to pull their weight in the group and that just didn't happen. It's a situation I'm all too familiar with and one that I'll do all I can to eradicate.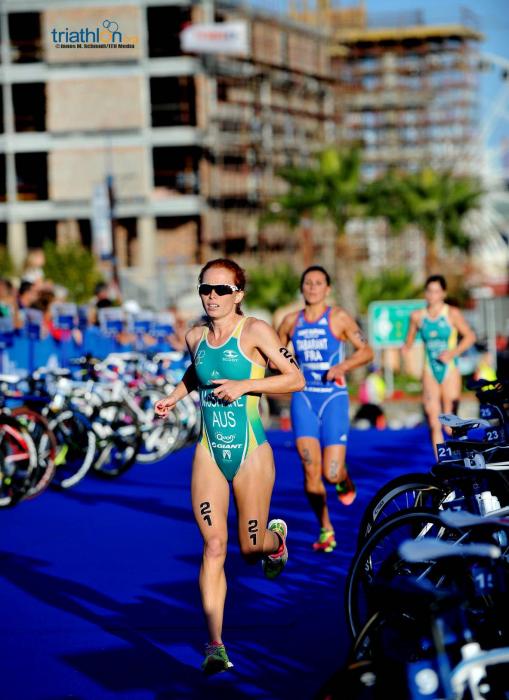 Starting the run, I wasn't quite sure how many were in our group and how many were ahead. I struggled to start off as quick as most of the other girls, but I built into it and crossed the line 21st.
It was far from my best WTS result but if I'm honest, the last few months have been a real struggle for me to get going and Cape Town was the first time this year that I felt like I was racing, and not just trying to get through it … And that for me is a big step forward.
There is a lot left in me this year and I'm excited to finally feel like I'm making progress.  I'm determined to make this year better than 2013
I head off to Europe via a quick stop in Yokohama, Japan for the third round of the series in 2 weeks.
A huge congratulations to the podium girls- Jodie Stimpson, Helen Jenkins & my training partner Gwen Jorgensen!