We're lined up, getting called on to the pontoon one by one. The nerve racking ITU music booms over the announcer and it feels like its just getting louder and louder. I'm nervous. Do I really belong here?
'Number twenty, from Australia, the current U23 ITU World Champion Charlotte McShane'
That's what has preceded every race start this year. I can't help but smile and get a little excited as I run on to the pontoon and pick my position in between countless Olympians, WTS winners and former World Champions. This year, I know I belong there.
Yokohama was a two-lap wetsuit swim that happened to be incredibly choppy the morning of the race. My swim performance was almost identical to last year when I raced here: disappointing. I struggled to get stroke speed up and put the pressure on when I really needed to.
I finished the swim leg in close contact to three other athletes with much of the field ahead of us and I knew I was going to have to ride hard to make up ground on the lead groups early on.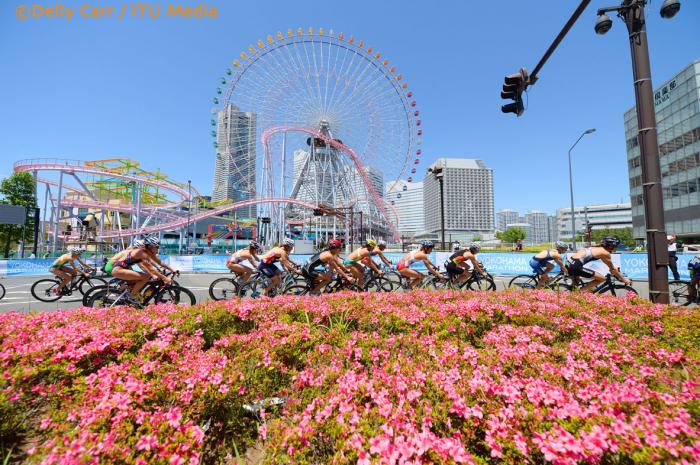 American Lindsey Jerdonek came flying past me in the first 1km and I sprinted on to her wheel and spent the next three laps doing all I could just to stay there. At around the 15km mark, we had caught the front group that now contained the majority of the field. Now it was time to ride smart and save some energy for the run.
It was crazy the sudden pace difference one we caught on – I had gone from going as hard as I possible, to what felt very pedestrian. I did all I could to take the time to try and recover and freshen my legs up for the run.
Heading into transition, I managed to make my way up to the front of the large group – a wise move with some girls hitting the deck due to the huge surge for the bike dismount line.
I headed out on to the run and the pace was on from the start. My legs were feeling flat, I struggled to match the initial intensity and for the first 2.5km it felt like everyone had passed me.
I eventually settled into my own rhythm and begun to build through the back half of the 10km picking girls off who were beginning to fade. Heat and humidity (something I've struggled with already this year) had climbed throughout the morning, which is something that in hindsight it might have been a blessing in disguise that I wasn't able to push myself too hard at the start. I was able to finish strong and run back into 19th place.
It's hard not to be disappointed when there are 18 girls finishing ahead of you. I train and race because I want to win every time I get on the start line. However I'm learning that winning can be a lengthy process and as long as I'm constantly progressing and moving forward it is a different kind of win.
I only have a few months left to enjoy the title when my name is announced on the line up. I quite enjoy being a World Champion. I guess it motivates me that little extra bit to one day earn myself another one..
Thank you for all the support!