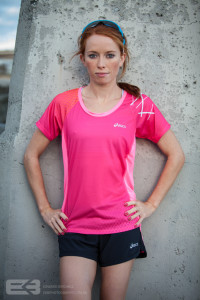 Charlotte was born in Wick, Scotland before moving to Helensburgh on the west coast of Scotland. Growing up she would
follow her older sisters and father to triathlons and cross-country running events around the UK. It was no surprise when Charlotte entered her first kid's tri when she was 7 years old & she found something that she loved. Little did anyone know at the time where this adoration for the sport would take her.
In 2001 Charlotte watched and supported her dad Frank compete in the Hawaii Ironman. This was a inspirational experience that Charlotte to still claims has a profound positive influence on her as a professional athlete. For the following few years she attended the Glasgow School of Sport in Bellahouston and focused on running under Norrie Hay.
In November 2005 Charlotte immigrated to Australia with her family in search of a change of lifestyle and sunshine! They moved to Bairnsdale, a rural town on the east coast of Victoria.Finding the climate much more agreeable Down Under Charlotte began to take her triathlon more seriously. Initially following in her dad's footsteps she began racing the long course format of the sport, competing in 10 half Ironman events before she'd turned 20. Preparing for her debut full Ironman race she suffered an injury that prevented her first attempt at the distance. It was at this time a ITU coach by the name of Jamie Turner got in touch with Charlotte and somehow convinced her to attempt ITU (short course) racing.
Charlotte relocated to Turner's base in Wollongong, NSW in 2010 and began a long process to improve her swim and turn her long course, slow twitch strength into a fast and dynamic ITU athlete. Charlotte is based here through the Australian summer and then in Vitoria-Gasteiz in the Basque region of Spain during the northern hemisphere's triathlon season.
Since taking on triathlon full time Charlotte has steadily improved her skills and performances. In 2013 she won the World ITU U23 Triathlon Championships in London and has since developed into a competitive elite athlete, regularly finishing within the top 10 in the World Triathlon Series. In 2016, Charlotte had her most successful season to date, finishing 3rd in the ITU World Triathlon Series in Cozumel, Mexico and ended the year ranked 8th overall in the World Triathlon Series. 
Outside of triathlon Charlotte is a huge animal lover and can be found spending time with her dogs and family . As a vegetarian Charlotte enjoys experimenting with new cooking ideas whenever her schedule allows some downtime.