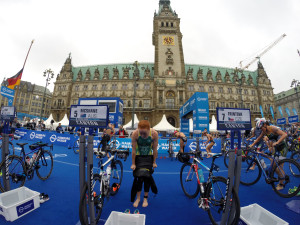 Hamburg is one of the most iconic stops on the World Triathlon Circuit. Set on the banks of the Alster lake and then through the narrow streets of the beautiful city centre with tunnel swimming, narrow streets, tight corners and cobblestone transition the course can't be called anything but unique. One other defining feature of this race is the huge crowds that line the streets all weekend charging the nerves and fuelling the adrenaline. This year the series event was a sprint distance – my first ITU sprint of the year. As the last WTS race before the Olympics the usually strong field was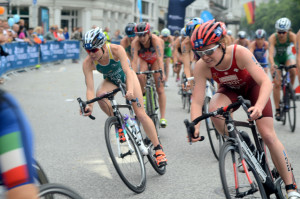 that little bit fitter but like most of the field I have been gaining fitness and was excited to test myself
over the sprint format.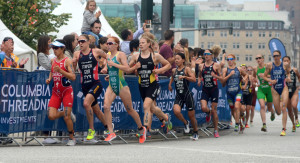 Surprisingly in the wetsuit swim (which tends to bunch everyone up) I rounded the first buoy at 250 metres in and already had reasonably clear water. This, in my experience, either means one of two things: I was near the front… or off the back! It was difficult to tell during the race exactly where I was especially in the near pitch darkness through the 50m tunnel! Fortunately, as I ran up the exit ramp around 15th, I realised there weren't too many ahead of me.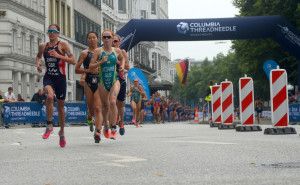 In the first of 6 laps a large pack quickly formed with most of the girls except for a group of seven who had a slight lead. Through a tight and technical course a big group is usually less beneficial with everyone constantly pushing for better position rather than working together. The smaller group ahead capitalised and we'd conceded around 50 seconds to the front group as we reentered transition.
I got out of T2 quickly and ran near the front of my group for the first 2km but I couldn't quite keep up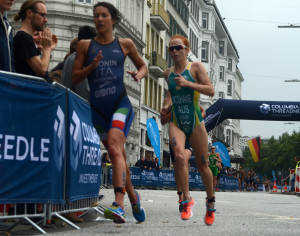 the pace with the fastest girls from my pack. A 50 second gap is quite significant to close down over 5km and only managed to catch a couple from the front group, crossing the line in 15th. It wasn't my best race, but definitely not my worst. I managed to hold onto 8th overall in the World Triathlon Series rankings.
The next day I was fortunate enough to be selected to race for Australia in the World Mixed Team Relay Championships alongside Jake Birtwhistle, Emma Jackon and Ryan Bailie. The Mixed Relay is an incredibly exciting format and I'd love to see the inclusion of it in Tokyo 2020!
I started off first and after a swim I was very happy with I completely stuffed up my transition. I struggled to get my helmet buckled and stood there anxiously attempting to do it up for what felt like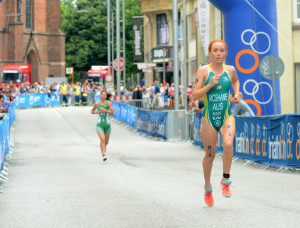 hours. In reality it was around 10 seconds but that was 10 seconds too long and I completely missed the lead group. I pushed myself forward spending most of the remainder alone but in such a short race (300m swim, 6.6km ride and 1600m run per person) it was impossible to make the time back up and I handed us over to Jake in 9th position. I have never felt so terrible about a race in my life. I knew we had a very strong team and I felt like I had completely let them down.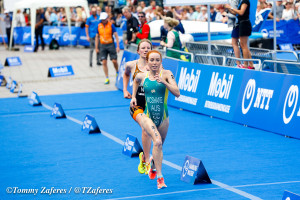 Fortunately Jake, Emma and Ryan were incredibly strong and didn't give up, managing to pull us back up to 2nd place!!! It was so exciting. I was so proud to be on the podium in the green and gold alongside them. Congratulations to team USA who won and Germany for 3rd.
I now have around 8 weeks until my next ITU race, which is my main focus for this season – the Grand Final in Cozumel, Mexico. Its time to get my head down and start training!