The Christmas/New Year period is most certainly my favourite time, and this year was extra special. I love having the opportunity to spend a couple of weeks at home and catch up with my friends and family.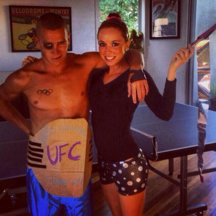 Christmas went as usual… A lot of food,a lot of people & a lot of fun. We have a large family so it's always busy with lots going on. My 83 year old Gran even travelled over from Scotland this year, which made it even nicer.
Boxing Day was much the same – we headed down to our beach house in Lake Tyers, East Gippsland and spent the day with all of the family.
On New Years Eve, my boyfriend Brendan Sexton and I spent the night at a friends 'sporting' themed fancy dress party in Melbourne . (See attached pic) You can guess for yourselves as to what we went as…  J
But the most exciting part was in the last few days before I went back to routine. My beautiful big sister Stephanie got married!! It was the most perfect day. I was thrilled to join my other two gorgeous sisters as Steph's bridesmaid.  It was the perfect day and I love that her husband Ryan is officially part of our family.
And aside from keeping busy with my family, I spent the rest of my time swimming, riding and running around the many beautiful trails & lakes that East Gippsland has to offer.
A couple of days later I was back to reality in camp at Falls Creek for another 3 week block of training. Our training group has grown quite significantly since last camp, with the addition of some Canadians, Americans, a Hungarian and a Chilean. I've already learnt so much from everyone around me, and it has been nothing but a positive environment!
I'm still focusing on building up my aerobic base, but look forward to gradually adding some faster paced work in over the next month. I'm starting to get quite excited to race again!
We are here in Falls Creek for a few more days before heading back to Wollongong.
Thanks for your support!