Racing in Noosa was a bit of a last minute decision. I ended my ITU season in Chicago 6 weeks earlier and had a few weeks downtime visiting family and friends in Scotland. I arrived back in Australia three weeks before Noosa and decided I'd go ahead and race!
I didn't put a lot of pressure on myself as I knew I wasn't 100% fit but
I really wanted to enjoy the race – Noosa is a beautiful part of the world and the Triathlon Festival weekend is incredible. The organisers do amazing job of holding so many events and it's not a surprise that every year it attracts so many athletes. It's a very iconic race in Australia that holds heavy prestige. I couldn't think of a better place to officially end my season!
For the first time ever the swim was held at the Noosa Main Beach rather than in the canal. I was happy with my swim and managed to exit the water in 4th, in touch with the leaders.
How I performed in the cycle leg was going to be a bit of a mystery to me. Noosa is non-drafting (different to my usual ITU format) and I hadn't prepared properly for a 40km time trial! I had also opted to use my road bike as I only had a couple of weeks to train on it before the race. This can be a disadvantage when time trialing so I was a little bit nervous as to how I'd go.
I was happy enough to stay close to the lead group of four girls until around 7km to go and then I lost touch. I rode the last part back into town myself at my own pace.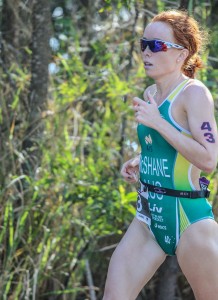 When I exited transition to begin the run I found out that I was in 3rd position as Emma Moffatt had unfortunately received a time penalty on the bike and I'd over taken her without realising. I knew she and some others from behind were really fast runners and with my limited preparation I had no idea as to how I'd run. I caught second place within the first kilometre and managed to hold off the girls behind to cross the line in 2nd behind Ashleigh Gentle!
I couldn't be happier with how it went – I went into the race with no expectations so to be on the podium was awesome! I loved having the opportunity to race in Noosa and I'll definitely be back

Charlotte

Pictures thanks to www.witsup.com, Aus Sports TV and Sam Betten