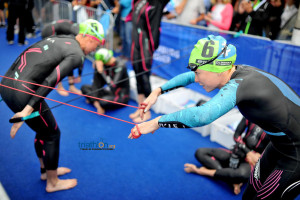 Since Gold Coast WTS in April this year my focus has been on the Hamburg World Series event. My major goal for the 2017 season was to qualify for the Australian Team for the Gold Coast Commonwealth Games next year.
After the Gold Coast WTS in April Hamburg was my only other chance to be automatically nominated by finishing within the top 10 and be the first Australian across the line. In Gold Coast I finished 6th but my training partner Ashleigh Gentle was 2nd and claimed the auto spot there.
On Saturday in Hamburg I crossed the line 8th (Ashleigh was 2nd again but as she had already qualified she was ineligible) so I'm very happy to say I managed to secure the final automatic nomination!

It wasn't the best race of my life but definitely one I'm proud of.
I had a really strong swim and put myself in a solid position by the end of the cycle. The majority of the field ended up in one big group so it was important to stay safe and have an awareness of what was going on around me. My run wasn't as speedy as I had hoped or prepared for with the front girls moving extremely fast. I was initially quite disappointed with this but I did what I came to do which was to grab the automatic spot so the disappointment didn't last long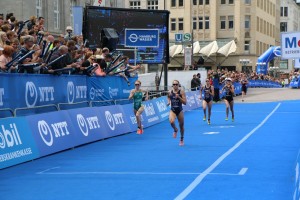 A huge congratulations to the impressive podium girls – Flora Duffy, Ashleigh Gentle and Laura Lindemann.
I loved the build up to both Hamburg and Gold Coast and challenging myselfto perform to my best ability under pressure and I'm incredibly excited to line up alongside Ashleigh next year in the Gold Coast! The final spot will be decided by discretion later in the year.
Team Relay World Championship- Backing Up
I didn't have long to celebrate on Saturday night as I had to turn my focus to the World Mixed Team Relay Championships the next day. The relay will be a medal event in Gold Coast next year and has also just recently been added to the Tokyo 2020 Olympics so it was extra special to be a part of the team this year!
I raced the first leg with Matt Hauser, Ashleigh Gentle and Jake Birtwhistle following.
Last year I made a huge mistake in transition which cost me a great deal of critical time and I felt like I struggled under the pressure. I learnt a lot from that experience and I made sure I went into the race this year with a solid plan to stick to.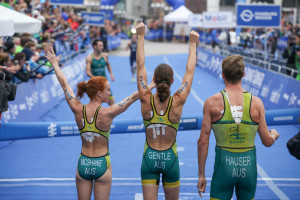 My swim wasn't great but I rode really hard on the first lap of the ride to make up ground. There ended up being most of the field (20 teams in total) in our bike group so I had to ride quite aggressive to hold a good position and get into transition as near the front as possible.
The run hurt! It was only 1600m long so it felt like I was sprinting the whole time! A small group of 5 of us edged ahead together and with a tight sprint at the end I managed to hand over to Matt in 2nd place. Thankfully a much better leg for me this year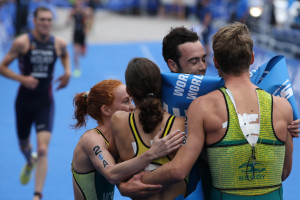 Matt and Ashleigh both were amazing and put us into a great position before handing over to Jake in 5th. There were 2 athletes who had a gap up the road but 'Super Jake' mowed them down, took the lead in the final few hundred metres and Australia won our first ever Mixed Team Relay World Championship!!!!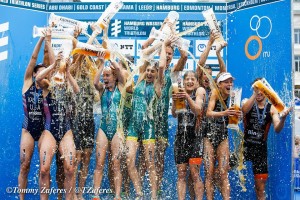 It was incredibly special and an honour to be a part of the team and I'm proud we can officially say we are the World Champions!
So it was a pretty good weekend in Hamburg for me 😉
I'm so grateful for the incredible support that surrounds me everyday. My family, fiancé Brendan (who came to Europe to help me prepare for Hamburg), my friends back home, my training group, Triathlon Australia and the support staff – and of course my coach JT for his unwavering belief in my ability. We did it!!!!
Photographs are thanks to :
Tommy Zafares, Triathlon.org, Michael Strokosch, Simon Damiral and British Triathlon.