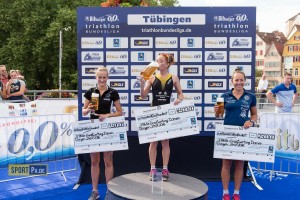 The past couple of months have been a little crazy and a change from the usual settled mid-season I have often spent in Vitoria -Gasteiz June through August. Firstly, I made a quick but successful trip to Tübingen in Germany to race the Bundesliga for my team, Stadwerke Witten. After already racing several of the team style races I was happy to finish third in the final of the series and take away the overall Bundesliga series title.
My next stop was London for the iconic London Triathlon. I raced here last year for the first time and I was really excited to head back for the impressive event that had an enormous number of amateur competitors – including a good friend of mine from my childhood. I was also meeting up with my parents, brother and partner Brendan who I hadn't seen for over 3 months and had travelled from Aus to watch me race. 

I was very happy to take the win after my silver medal here last year! The London Triathlon has had many athletes who I looked up to growing up win before so it was quite special for me to have my name alongside theirs.
I then spent the following week in Glasgow, the city I grew up in before moving to Australia 11 years ago. I am very proud to represent Australia and I definitely call myself an Australian but when I go back to Scotland it still holds many memories that I will consider home

I still have many friends and family living there and I was fortunate I managed to squeeze in some time to catch up with some of them.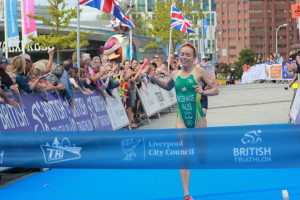 The following weekend I travelled down to Liverpool to race in the British Sprint Triathlon Championships. Many of the same girls that I had raced the previous week were lining up again so I had an idea as to how the race might pan out. Some of the British girls are extremely strong swim/bikers so I had to really focus on that so I could get off to a good start with them. The race was quite exciting, finishing up in a sprint finish for the win in which I just edged out the strong Jess Learmonth to break the tape. The race also happened to coincide with my birthday so it was a double celebration!
After another successful weekend I headed back to Scotland with my family and Brendan and we travelled up to Caithness in the far north where I was born. We were very fortunate that the weather was great the whole time we were there and it was absolutely beautiful! One of the nights we stayed in Ackergill Tower Castle (a real castle!) which was a very cool experience.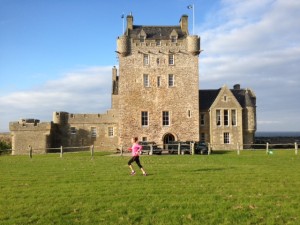 After what felt like a whirlwind trip, before I knew it I was on a flight to Florida. I've spent the past 10 days in hot and humid Clermont preparing for my final WTS race of the year, the Grand Final in Cozumel, Mexico. I'm slowly but surely adapting to the heat a little better each day and I'm loving being back with my Wollongong Wizards training partners (including the newly crowned Olympic Champion Gwen Jorgensen!!)
Photo Credit :
Hrszphotography and British Triathlon