I'm very excited to be able to announce that I recently signed with ASICS.
ASICS have such a huge presence in the triathlon community and I am honoured to be an ambassador and very grateful for their support!
I've spent the last month trialing a few different shoes, and below are my current choices :
Gel-Super J33 
I do almost every training run in these, from my long runs to my tempo runs. I love light & flexible training shoes, so for me these are perfect!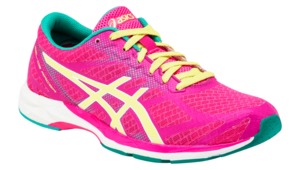 Gel DS Racer 10
I'll put on my DS Racer's if I want a slightly lighter running shoe for any top end speed work, like 1km reps. They feel a little less cushioned the the Gel-Super's so are more similar to my race flats.
Gel-Hyper Speed 6
These are what I currently race in. I normally do either 5km or 10km when I race, & so my priority is finding a very light shoe! The Gel-Hyper Speed is perfect for me. Its very light & also easy to get in to for a quick transition.
Check out www.asics.com.au for their latest range of shoes and apparel.